SMA is divided into four types based on the age of onset and functional ability. Individuals with SMA therefore experience a different range and/or severity of symptoms. Severity can also range within each type, and many individuals (up to 25%) cannot be classified into a precise type.1
Characteristics of SMA
Type I (also known as Werdnig-Hoffmann disease)
Age of onset
0-6 MONTHS
(infantile-onset)
Highest motor milestone achieved
UNABLE TO SIT
("non-sitters")
Clinical characteristics
Poor head control
Weak cough
Weak cry
Progressive weakness of muscles used to chew and swallow
Poor muscle tone
'Frog-legs' posture when lying 
Severe muscle weakness on both sides of body
Progressive weakness of muscles that help in breathing (intercostal muscles)
Type II (also known as Dubowitz disease)
Age of onset
7-18 MONTHS
(intermediate)
Highest motor milestone achieved
ABLE TO SIT INDEPENDENTLY
("sitters")
Life expectancy
>2 YEARS
70% still living
at age 25
Clinical characteristics
Muscle weakness 
Swallowing, coughing, and breathing problems may occur but are typically less common
Muscle aching and joint stiffness symptoms
Children may develop spinal problems such as scoliosis (curvature of the spine), which may require bracing or surgery
Type III (also known as Kugelberg -Welander disease)
Age of onset
18+ MONTHS
(juvenile-onset)
Highest motor milestone achieved
ABLE TO WALK INDEPENDENTLY
("walkers", although they may progressively lose this ability)
Clinical characteristics
Scoliosis (curvature of the spine)
Swallowing difficulty
Muscles in the legs are generally more severely affected than the arms
Muscle aching
Joint overuse symptoms
Type IV
Age of onset
LATE ADOLESCENCE/
ADULTHOOD
(adult-onset)
Highest motor milestone achieved
Clinical characteristics
Physical symptoms are similar to juvenile-onset SMA, with the gradual onset of weakness, tremors, and muscle twitching first noted in late teens or early adulthood

For children with SMA, the disease is often first suspected by a parent, who may notice that their child is not meeting certain developmental milestones
Parents may observe that their child is not reaching typical physical milestones for their age, including:
ability to hold their head up
ability to roll over
ability to sit up independently. 
Swallowing or feeding may also become difficult, and children may lose the ability to swallow safely without choking or inhaling food into their lungs (aspiration).
While all babies develop at their own pace, the World Health Organization (WHO) offers the following general motor milestone guidelines as part of the Multicentre Growth Reference Study (MGRS):
Motor milestones in the MGRS
Adapted from the WHO Multicentre Growth Reference Study.
Milestone checklist by age
Adapted from the Centers for Disease Control and Prevention Milestone Checklist.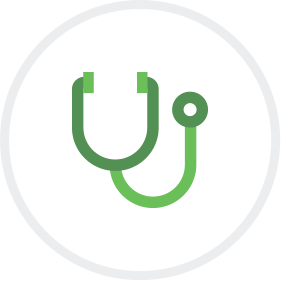 It is important that parents share their observations of potential motor delays with their doctor as this may lead to an earlier diagnosis and improved outcomes for children with SMA.
REFERENCE
1 . Kolb S and Kissel J. Neurol Clin . 2015;33:831–46.